Ein goldener Pavillon soll auf dem Domplatz selbst als Signé wirken und ab Februar auf dem Domplatz in Münster stehen und soll  auf die Ausstellung "Goldene Pracht. Mittelalterliche Schatzkunst in Westfalen" hinweisen.
Intention unseres Entwurfes ist es einen Raum zu schaffen, der auf dem Domplatz einen Ort bietet der von Licht und Schatten, von Kreativität und Schutz, sowie von Konstruktion und Signifikanz lebt.
Da der Pavillon als Infopavillon dient, war es uns besonders wichtig, dass Besucher des Domplatzes den Baukörper schon von weitem wahr nehmen. Entsprechend haben wir dem Pavillon eine Dachkonstruktion verliehen, die sich einer Krone gleich dem Gefüge der Baumkronen auf dem Domplatz integriert.
Das Dach ist eine Komposition aus der Struktur von gewebten Fasern mit den lichtbrechenden Eigenschaften eines Baumes.
Als Gegenstück zur Baumkrone haben wir das Tragwerk für die Dachkonstruktion so angeordnet, dass sich auf Augenhöhe die Analogie zu einem jungen Birkenwald vermuten lässt, in die sich der Baukörper einfügt.
Komponiert ist der Pavillon aus einem Raum mit den Bestandteilen Information und Werken, die über eine transluzente Hülle belichtet werden, die ihre Lichtdurchlässigkeit je nach Sonnen- stand verändern. So reagiert der Raum auf den Tagesverlauf und erzeugt unterschiedliche Atmosphären, die durch die raumhohe Verglasung und die Polycarbonatstegplatten geschaffen werden.
Die Bereiche des Pavillons können flexibel, je nach Nutzung getrennt und zusammengeschaltet werden, indem ein transluzenter Vorhang, der den Raum durchwebt, vorgezogen werden kann.
Das direkte Umfeld des Pavillons, innerhalb des Stützenwaldes der Dachkrone, wirkt besonders auf die Sinne ein, indem das durch das Modulraster gebrochene Licht stetige Veränderungen durchläuft.
Entstanden ist die Struktur der Module durch das Ausarbeiten eines Rasters, das die Regelelemente des Grundrisses aufnimmt. Durch den Faktor sechs dividiert ergibt das Raster eine Auffaltung, die auf die schmalen Stützen aufgesetzt die feine Verästelung der umgebenden Bäume widerspiegelt.
english
The goal of this workshop was to design a temporary pavillion in Muenster as a part of the Golden splendor exibition of the Westphalian State Museum. A workshop supported by Marc Günnewig and Jan Kampshoff. Design program was workshop and infodesk.
Intention of our design was to create a space that provides a light and shade place in the cathedral square.
The information desk and the pavillion had to became a meetingpoint. We have given the pavilion a roof structure, which is like the integrated structure of tree crowns.
The roof is a composition of the structure of woven fibers with the refractive properties of a tree.
As a counterpart to the crown, we have the structure for the roof structure so arranged, that can be imagined at eye level, the analogy of a young birch forest, which fits in the building.
The pavilion is composed of a changing room with the components of information and works that are illuminated by a translucent cover that was their light transmission depending on the sun. Fen-be created so the site responds to the day, and creates different atmospheres, caused by the high spatial resolution and the polycarbonate glazing panels.
The areas of the pavilion can be flexible, depending on usage separately and assembled tet-switched by a translucent curtain, which weaves through the space may be preferred.
The direct environment of the pavilion, within the restraints of the forest crown roof, acts especially on the senses by which traverses through the refracted light Modulras-th continuous change.
The structure of the modules created by working out a grid that has the elements Regelele-takes of the plan. Divided by a factor of six yields the raster is a On-convolutionally who placed onto the narrow restraints reflects the fine ramification of the surrounding trees.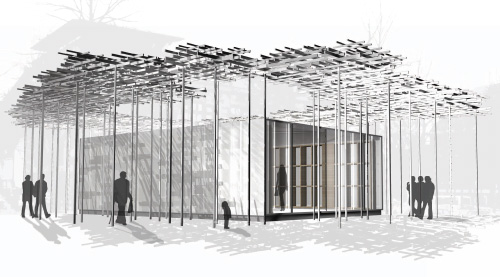 Die Dachkrone wird zur Zusammensetzung zwischen Licht und Schatten
// The roof crown ist a composition between light and shade
Platz Situation mit Wochenmarkt. Eine Große Herausforderung ist die Markt Situation. Der Pavillon soll möglichst wenig der Wochenmarkt stören. Der Pavillon liegt so dass die Marktstände nicht weichen müssen.
// Square situation with market. A big challenge is the market situation. The pavilion should interfere as little as possible of the weekly market. The pavilion is located so that the soft market stalls do not have to be moves.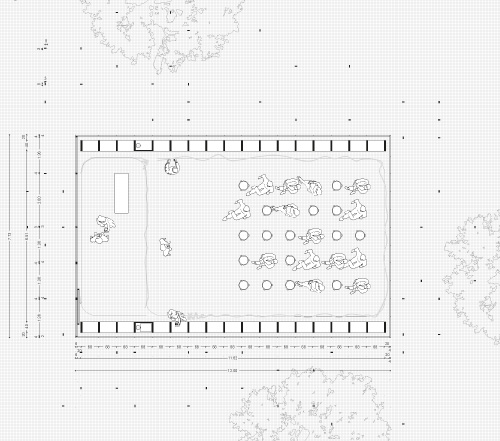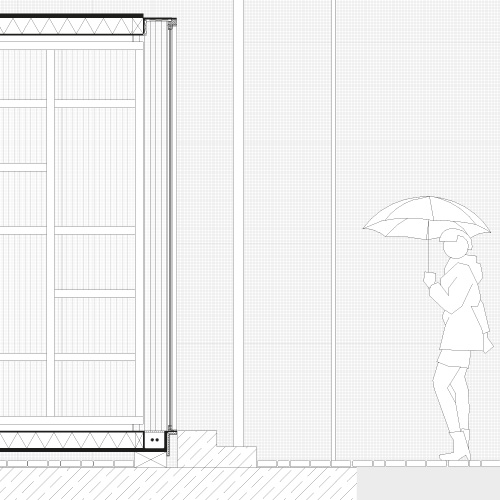 Baukonstruktiver Schnitt
// Detail Section
Schnitt
// Section